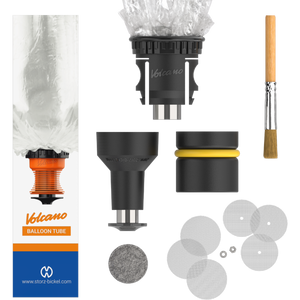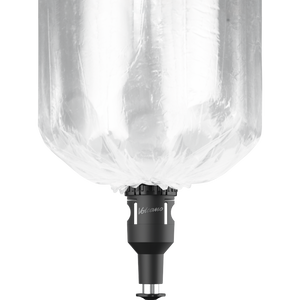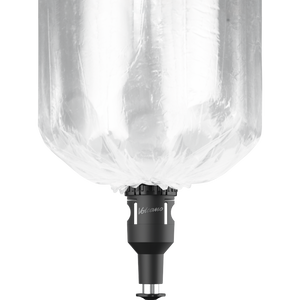 Solid Valve set
For VOLCANO DIGIT & VOLCANO CLASSIC

Set of all SOLID VALVE parts necessary for the vaporization of herbs as well as liquids and oils with the VOLCANO.
1 pc. SOLID VALVE with Balloon
1 pc. Balloon Tube (3m)
1 pc. Mouthpiece
1 pc. Filling Chamber for Herbs
1 pc. Normal Screen Set
1 pc. Drip Pad (approx. Ø 24 x 5 mm)
1 pc. Cleaning Brush
SOLID VS. EASY VALVE VOLCANO USAGE: The Easy Valve is characterized by very easy handling and minimal maintenance work. Attaching a new balloon to the valve is no longer required, as the Easy Valve comes as a ready to use valve balloon unit including mouthpiece. Once the Easy Valve can no longer be used, you simply replace the old with a new one. The Hassle-free set up benefits those looking for a low maintenance option. Eschewing the time-consuming task of cutting a bag to size and attaching it to the solid valve, the Easy valve set for the volcano classic vaporizer allows for rapid change of your vaporizer bag, ensuring optimum performance. The starter set is delivered with 5 Easy Valve balloons and the appropriate filling chamber. The Easy Valve filling chamber is cleaned and re-used. The Solid Valve is the standard valve and is the most popular option for the Volcano Vaporizer. One can choose its individual balloon size as the Solid Valve Set comes with a box of 3 meters of balloon material. Using the Solid Valve, the replacement of the balloon is kind of tricky and needs some experience, but the Solid Valve provides a less expensive long-term option, as the balloon material can be bought for a reasonable price. The solid valve also boasts an unrivaled customization experience as the user can create a bag of any size they wish. This option is perfect for all sorts of consumption, from mini bags for personal use, to room size bags for those mega share sessions. The Solid Valve is the perfect choice for the vapor enthusiast looking to add some customization to their vaping experience.