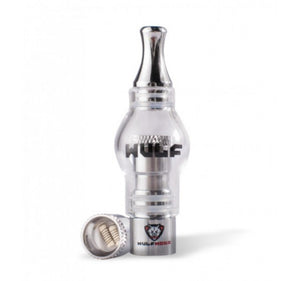 Wulf Mods 510 Dome Kit Dual Coil Ceramic Rod
The Ceramic Dual Coil Wax Pen Kit is a dome kit that's appropriate for fans of concentrates. It has ceramic nichrome and glass construction. The kit, because of that, is known for its extraordinary strength. If you want to be able to vaporize your preferred concentrated oils like a bona fide champion, the Ceramic Dual Coil Dab Pen Kit by Wulf Mods can help you achieve your goal. This kit is useful because people can employ it just as they do other 510 thread devices. If you want to buy a dome kit that has an efficient dual coil heating system, this Wulf Mods product should be able to do the job for you perfectly. This dome can be beneficial for vapers who enjoy huge clouds. If you want large clouds without having to put in a lot of effort, you should pay careful attention to this kit. Its transparent glass dome can hold considerable amounts of vapor. This kit's outer diameter is 1/2 inch. It has a length of 2 3/8th inches.
The Ceramic Dual Coil Wax Pen Kit has a user-friendly and streamlined setup. People can easily use the kit at home. They can easily use it when they're away as well. If you're tired of wasting your energy and time on other kits that are costly and ineffective, this Wulf Mods option should catch your interest. Using it is easy. It's affordable. It has amazing dual coils that can positively impact your vaping experiences. The Ceramic Dual Coil Dab Pen Kit can be a remarkable choice for vapers who are keen on strong designs. People love the fact that the transparent dome allows them to keep track of remaining levels. This kit is also great for people who like simple coil replacement and spare mouthpieces.