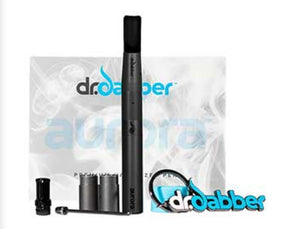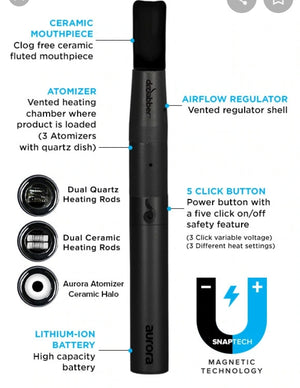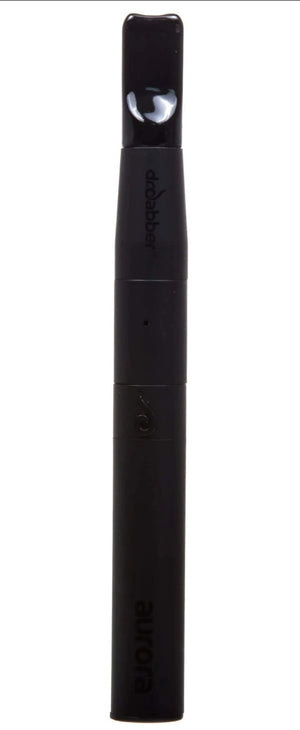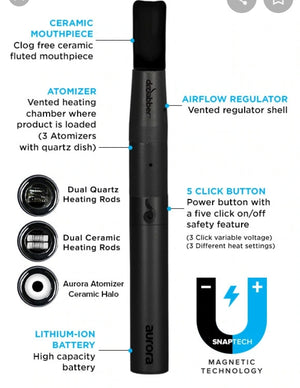 Aurora
The Dr. Dabber Aurora is a variable voltage, magnetic vaporizer pen designed with the user in mind. Fully Magnetic connection makes for a seamless user experience, three carefully calibrated heat settings allows you freedom to experiment, and a sleek, discreet satin finish keeps things low key. The Aurora is the next generation of vaporizer pen, pairing innovative features with Dr. Dabber's award winning 'low heat' technology.
Quartz, Ceramic & Halo Atomizers
Five Click Safety Feature
Click the button five times to turn off the battery, five times again to turn on the battery.
This safety cutoff is employed so as to avoid the vaporizer pen turning on when not in use.
Three Click Variable Heat
Once the unit is on, click the button 3 times to change the heat setting.

Green indicates low heat
Blue indicates medium heat
Pink indicates high heat
How to load your Dr. Dabber Aurora
Pull mouthpiece upwards to separate the airflow regulator from the heating chamber of your Aurora pen.

Prepare your product and load directly onto the heating chamber (atomizer). Ensure direct contact is avoided between loading tool and heating element.

Once your product is properly loaded, reconnect airflow regulator to heating chamber. Ensure chamber is not overloaded as this can cause the product to fail and will not be covered under warranty.

Press the button on the battery 5 times quickly to turn the unit on. Then press and hold the button while inhaling to administer vapor.
Charging your Dr. Dabber Aurora
Connects to universal USB outlets. Connects to top of battery to charge. Charge device fully before use. Light will turn green when complete
Choosing your Atomizer
Not all oils & waxes are the same, so three unique atomizers are included to expand your range

Dual Quartz Rod with Quartz Dish: Good for tasting your product and produces a "clean" flavor. This atomizer can be used with most types of concentrates, if the product is not an extreme low viscosity.

Dual Ceramic Rod with Quartz Dish: Good for bigger clouds and you can "feel" the draws more in your throat. This atomizer can be used with most types of concentrates, if the product is not an extreme low viscosity.

Ceramic Halo Heater with Quart Dish: Good for being discreet as it produces very little clouds or vapor. This atomizer usually needs a higher heat setting. Suitable for waxier oils