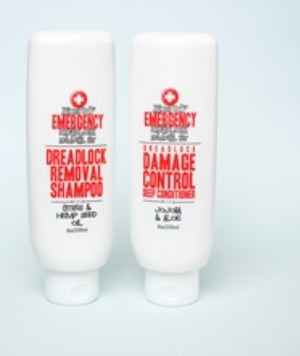 Dreadlock Removal Kit
unlocks and repairs dreadlocks, trauma tangles, mats and knots of any age, without cutting
Shampoo breaks down hair product and environmental build-up, preparing knots for removal
Deep Conditioner allows the tightest of mats to be easily freed, retaining and repairing the original hair
allows you to try dreadlocks anytime, then restore hair again, risk-free!
Knotty Boy Removal Kit contains the following:
Dreadlock Removal Shampoo with White Grapefruit & Hemp Oil
Knotty Boy's incredible Removal Shampoo utilizes natural properties found in Citrus Peel to gently, yet powerfully soften and dissolve product and environmental build-up in dreads for easy removal, while Hemp Oil and Oat Proteins restore moisture and nutrients essential for healthy, soft, great looking hair.
Dreadlock Damage-Control Deep Conditioner with Prickly Pear & Hemp Oil
After thoroughly scrubbing with Knotty Boy Removal Shampoo, detangle and moisturize loosend knots with our silky Deep Conditioner for softer, easier-to-comb-through hair and ultimate repair. Aloe Vera Extract soothes the scalp and follicles, while Jojoba, Hemp Oil and Panthenol smoothes, strengthens and conditions knotty hair back to its free flowing form.
Both Shampoo and Conditioner may be used repeatedly on newly detangled hair for continued repair and conditioning.

Please note: Depending on how old your locks or knots are, complete removal may require hours or, in some cases, a full day. Removal can be broken into sessions and done over a few days time, if prefered. This may seem like a lot of effort, but considering dreadlocks take several hours minimum to create from scratch, it's not unreasonable that it may take as much, or more, time to pick all those knots back out of your hair again. The work is literally in your hands, but with the help of the Knotty Boy Removal Kit, a strong comb and a little patience and time, you can be restored to your full head of original hair.