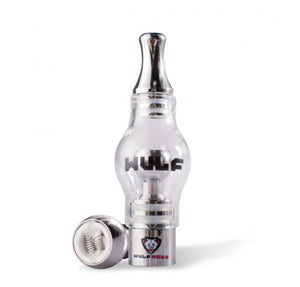 Wulf Mods 510 Dome Kit Dual Coil Titanium
The Titanium Dual Coil Wax Pen Dome Kit is optimal for people who like concentrated oil vaporization. This kit features a variety of different features that make it easqy and pleasant to use. Some of these are a dual coil heating system, a clear glass dome and tough grade 2 titanium heating coil. It can easily accommodate vaping devices that have 510 thread patterns, too. Many people gravitate to the kit's dual coil heating system. This is because the system has the ability to create rich and powerful vapors. The Titanium Dual Coil Dab Pen Kit is known for its exceptional strength. That's because it's made of sturdy titanium components that can tolerate a lot of wear. If you invest in this Wulf Mods offering, you'll get the full kit and a spare atomizer to boot. This kit's clear dome is a big attraction for many vaping enthusiasts. This is because it can accommodate a lot of vapor prior to individual draws. 
The Titanium Dual Coil Wax Pen Dome Kit's length is 2 3/8th inches. Its outer diameter, on the other hand, is just half an inch. 
This dome kit can be helpful for vaping lovers who have penchants for cleanliness. Keeping a clean setup is vital for anyone who takes vaporization seriously. This is because meticulous equipment can pave the way for more satisfying and enriching sessions. The Titanium Dual Coil Dab Pen Dome Kit is a breeze to keep immaculate. If you want to put your money into a dome kit that's attractive and user-friendly, this could be a solid option for you.