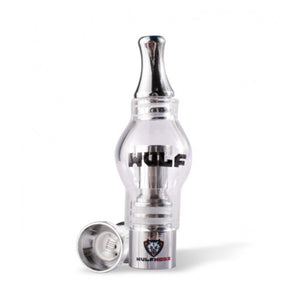 Wulf Mods 510 Dome Kit Titanium
The Titanium Wax Pen Dome Kit can be a smart option for people who love both essential oils and concentrates. It comes with a massive tank that's made of grade 2 titanium. Other highlights of the Titanium Dab Pen Dome Kit are a glass cover and a ceramic nichrome heating chamber. It has a titanium coil that is effective for a couple of major reasons. Titanium is a remarkably tough material. The material isn't only tough, either. It's also highly invulnerable to the hassles of corrosion. If you want to steer clear of corrosion, titanium can help you do so.
This product has an outside diameter of half an inch. It's 2 3/8 inches long as well. People who purchase this Wulf Mods offering receive full dome kits. These kits come with spare atomizers.
If you have a vapor that has a 510 thread pattern, this dome will accommodate it without a problem. Just take your old mouthpiece and heating chamber out. Once you do those things, you can swap them out with the dome. Filling the heating chamber up is just as straightforward and quick. Get the glass cover out and remove the heating chamber's cap. Put your oils inside. Replace the cap and mouthpiece. You can then get moving!
If you want to find a dome that can accommodate large concentrate amounts, the Titanium Dab Pen Dome Kit by Wulf Mods can make you smile. Vapers adore everything from its speedy heating times to its user-friendly design. Vapers who travel a lot often opt to use this reliable concentrate dome kit.