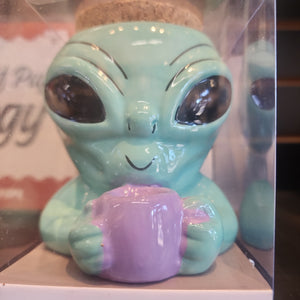 Alien Stash Jar
About this item
Novelty Stash Jar: With a unique and out-of-this-world design, this teal-colored stash jar features an alien with huge jet black eyes, holding a lavender mug in his hands.

Usage: This airtight jar can be used as a storage container for tea, coffee, herbs, spices, and medical herbs. The tight-seal cork ensures that your herbs are kept fresh for months and that the sensitive material is protected from light.

Size Details: This cool Alien Stash Jar is made of ceramic, and its dimensions are 4" x 3.75" x 3.25". The novelty stash jar comes in a stylish acetate box.