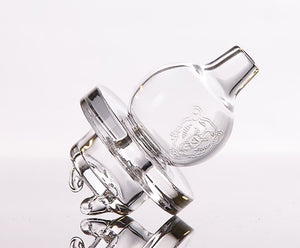 Bear Quartz Dual carb cap
Directional carb caps are designed to be paired with a number of dab nails, including quartz bangers, thermal bangers, terp slurpers, and honey buckets. As opposed to regular carb caps, directional carb caps—including the popular ball carb caps/bubble carb caps—are designed to be moved around by the dabber to expose the whole nail to air.

This quartz dual spinner cap provides two functions,  one side acts as a bubble carb cap, while the flip side is a directional cap.