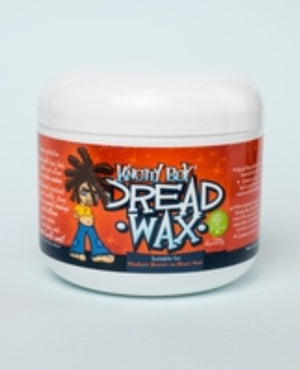 Dread Wax
all natural formula for starting and maintaining

 

dreads in ANY hair type
binds new locks together, allowing scalp and locks to be

 

washed as normal
non-greasy, non-cakey,

 

easy to use

 

formula
available in

 

Light

 

(natural beeswax color), suitable for Blonde to Light Brown hair, and

 

Dark

 

(with Walnut pigment), suitable for Medium Brown to Black hair
no added fragrance, just the sweet smell of 100% natural beeswax
Regardless of length or hair type, beautiful dreadlocks require attention, care, and love, especially in their first year of development. Letting them come together on their own over time is a perfectly acceptable way to create dreadlocks, however, it simply offers no control over how long it takes them to grow, or what they might look like in the end.
Knotty Boy Dread Wax is an all natural formula that allows more complete control over what the end result will be for your dreads. Short, long, pencil thin or Bob Marley boas, the power to create your dream-locks, literally, is in your hands. Knotty Boy Dread Wax utilizes the properties of pure, earthgrown ingredients to keep new locks looking tidy, while dramatically accelerating the natural locking process. It simply helps make better locks, faster.
In addition, this light, water-resistant formula binds hair together, allowing the scalp and hair to be washed like normal without the risk of losing fragile, new locks, yet naturally breaks down and washes out gradually with every hot, steamy shower when not reapplied.
Knotty Boy Dread Wax is a unique pomade designed with dreadlocks in mind, and is free of parabens, petroleum, anything unnecessary to the dreadlocking process, or harmful to human hair.
Bottom line: Knotty Boy Dread Wax is a non-greasy, non-cakey, strong holding, sweet smellin', easy-to-use jar of joy. Although it is soft enough to easily apply, it's strong enough to bind new dreadlocks together effectively until they are mature and ready to continue developing on their own into the lovely mane of locks you've always dreamed of.