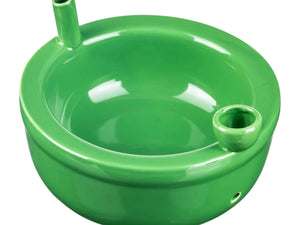 Roast & Toast ceramic bowl
The perfect novelty gift for a friend who has everything - a great way to start your day with a bowl of cereal and a hit of your favorite herb! Designed to put you in a great mood and keep that smile all day long! This on-trend cereal bowl is made of ceramic with a shiny green finish. On the side of the bowl is a holder where you can pack your tobacco and light it. The smoke filters through the bowl to the mouthpiece.
This product is recommended for adult use only. It is microwave and dishwasher safe. The bowl comes packaged in a gift box, making it a great novelty gift idea.
Size 6 x 6 x 4" tall
Made of ceramic in a shiny green finish
Microwave and dishwasher safe
Recommended for adult use only
The perfect novelty gift for someone who has everything